Weight :10-25 t
MaterialASTM :1035 / DIN: CK35
Applicable devices: vertical mills, mineral slag vertical mills, cement vertical mills, steel slag vertical mills, nickel slag mills, raw material vertical mills and coal vertical mills.
Application: Cement, building material, chemical, coal, electricity, metallurgy and non-metallic mine
Customizable: Yes
Vertical mill rocker is one of key components of vertical grinding mill. It includes upper rocker, down rocker, rocker shaft, bearing, bearing seat, etc. The upper rocker is used to install the grinding roller, and the down rocker connects with hydraulic system. Two rockers are connected into a whole by shaft, taper sleeve and taper pin.

Advantages of CHAENG vertical mill rocker arm:
1.The vertical mill rocker produced by Great Wall Steel Casting has better wear-resistant capability and good anti-cracking.
2.We carry out the dressing and finishing by arc air gouging and shot-blasting for the steel castings to guarantee the appearance quality.
3.Before delivery, all the rockers will have NDT inspection several times as per perfect inspection flow. Any defective product is forbidden to leave factory.
When you send the inquiry, pls note:

1.Pls kindly offer us Clear English Drawings.

2.Pls kindly tell us your detail requirements ,payment terms and quantities.

3.Pls attach your company website,so that we can know each other better.Thank you.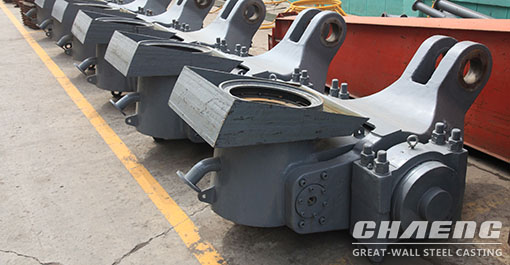 For more details: www.partscasting.com
and contact: casting@chaeng.co