Weight: 5~30T
Applicable devices: all types of vertical mills, mineral slag vertical mills, cement vertical mills, steel slag vertical mills, nickel slag mills, raw material vertical mills and coal vertical mills.
Application: Cement, building material, chemical, coal, electricity, metallurgy, non-metallic mine, etc
Customizable: Yes
Wheel hub, also called grinding roller boss, is the core part of grinding roller assembly. The roller cover is fixed on the hub, and the hub is installed on roller shaft, which forms the grinding roller assembly. Generally speaking, roller shell and wheel hub is connected together in the tapered structure, which is convenient for easy maintenance and disassembly.

When you send the inquiry,pls note:
1.Pls kindly offer us Clear English Drawings.
2.Pls kindly tell us your detail requirements ,payment terms and quantities.
3.Pls attach your company website,so that we can know each other better.Thank you.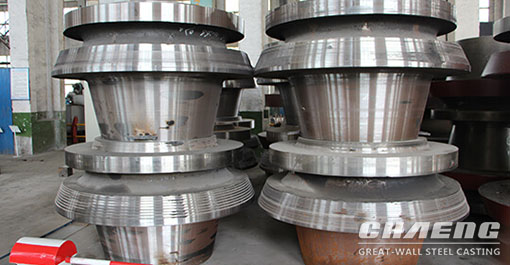 For more details: www.partscasting.com
and contact: casting@chaeng.co